Urban Conflicts and Socio-Territorial Cohesion: Consensus Building and Compromise in the Saint-Michel Neighbourhood in Montreal
Catherine Trudelle

Universite du Quebec a Montreal

Juan-Luis Klein

Universite du Quebec a Montreal

Jean-Marc Fontan

Universite du Quebec a Montreal

Diane-Gabrielle Tremblay

Teluq- Universite du Quebec
Abstract
Our research highlights the structuring effect of initiatives that mobilize social economy and community action resources with the aim of promoting the conversion of local spaces and the implementation of a dynamic of local development and socioterritorial inclusion. Using the case study of the establishment of La TOHU in the Saint-Michel neighbourhood in Montreal (Quebec, Canada), for which we conducted a literature review and an interview survey, we show how urban conflicts contributed to the construction of a cohesive environment. In the path taken by Saint-Michel, one of the most sensitive neighbourhoods in Canada, our confl ict analysis sheds light on (1) the relationship between urban confl icts and legitimate representation for sites of consensus-building, (2) the importance of the instances allowing for debate and discussion between the various types of actors (social, business community, public) such as to generate strong coalitions centered on the social development of the local community and the improvement of the quality of life for citizens, and (3) the relationship between consensus-building among the actors and the development of compromises for the territory under study. The debates provoked by the conflicts thus allowed for the social construction of rallying points, which in turn promoted the reaching of compromises, in this case, the one leading to the establishment of La TOHU. However, although La TOHU was a success as a strategy of integration and socio-territorial connectivity, the roots of the borough's socio-economic problems have not been resolved: Saint-Michel is still a poor neighbourhood in which socio-territorial exclusion has not disappeared. Finally, the 2008 riots which took place in Montreal-North, an adjacent neighbourhood, point to an important direction to pursue in our continuing research on the role and place of conflicts in socio-territorial regulation: the analysis of ethnic riots and conflicts related to social integration.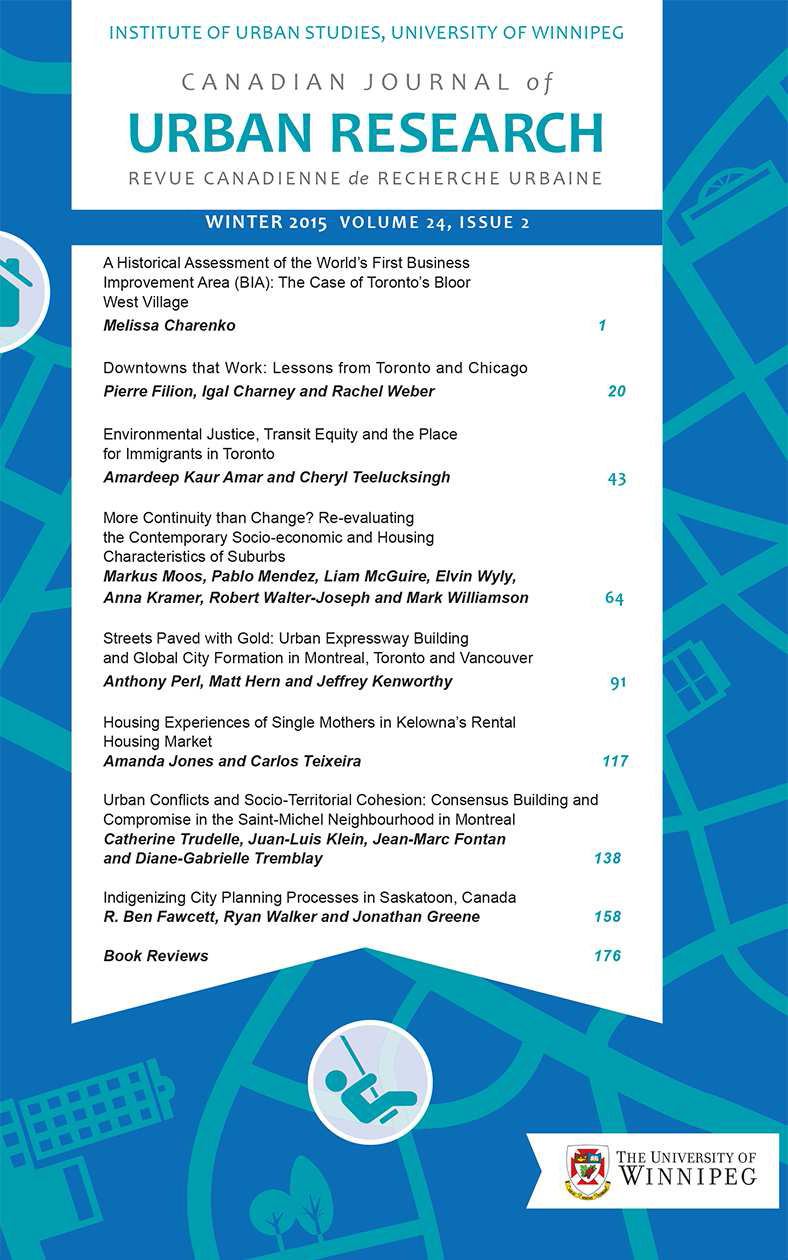 How to Cite
TRUDELLE, Catherine et al. Urban Conflicts and Socio-Territorial Cohesion: Consensus Building and Compromise in the Saint-Michel Neighbourhood in Montreal.
Canadian Journal of Urban Research
, [S.l.], v. 24, n. 2, mar. 2016. ISSN 2371-0292. Available at: <
http://cjur.uwinnipeg.ca/index.php/cjur/article/view/17
>. Date accessed: 25 may 2019.
Copyright: Institute of Urban Studies